Cabbage rolls are one of my favorite dinners but sadly they include rice which makes them not Paleo diet approved.  They are also fairly time consuming to make . When I'm looking for a quick dinner recipe, I don't choose cabbage rolls.  Unstuffed cabbage rolls have all the flavor of stuffed cabbage rolls but without all the work.  These unstuffed Paleo cabbage rolls are my version of traditional unstuffed cabbage rolls so that it fits in the Paleo diet.
Unstuffed Paleo Cabbage Rolls
Vegetables from the Brassica family (cabbage, cauliflower, brussels sprouts, kale, and broccoli, to name a few) offer some unique health benefits. They are on my own personal superfood list. Cabbage is an amazing source of fiber and at 47, that's something I try to get a lot of. Cabbage stops bile from absorbing fat after a meal. That lowers the overall amount of cholesterol in your body. Since my husband has high cholesterol, this is something I sneak into his diet regularly. Cabbage contains glucosinolates that have anti-carcinogenic properties. That's another great reason to add this to your diet.  To get the most benefit from cabbage, you should cook it lightly to maximize the health benefits.
You can prepare this meal in 15 minutes by using pre-cut and pre-shredded vegetables.  If you have more time, chop the vegetables yourself.  I chose Aidells all natural, fully cooked, chicken sausage links since that is the only sustainable sausage available at our small local grocery store.  When I shop at our food coop, I buy local, all natural bulk sausage instead of sausage in link form.  Either way will work but make sure that it is fully cooked to keep the meal under 15 minutes to prepare.
Saute the cabbage and onions in olive oil first since they take the longest to cook.  Then add the mushrooms and the cooked sausage.
Finish by adding the can of diced tomatoes.  Heat thoroughly and serve.

Unstuffed Paleo Cabbage Rolls
Ingredients
4 links of Aidells fully cooked, chicken sausage
1 cup of sliced button mushrooms
1 cabbage head, chopped or 1 bag of chopped cabbage
1 small onion, sliced
1 tbsp extra virgin olive oil
1 can organic canned, diced tomatoes
Instructions
Put olive oil in large pan with lid.
Add cabbage and onions to pan and sautee on medium with cover on about 5 minutes. Stir occasionally.
Add mushrooms a sausages (in one inch pieces) and sautee 5 more minutes.
Pour in the diced tomatoes and heat until warmed through.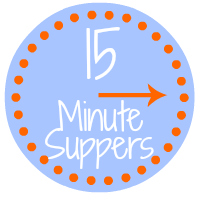 Follow 15 Minute Suppers on Facebook | Twitter | Instagram | Pinterest
and look for the #15MinuteSuppers hashtag too!
Chicken Scallopine from Around My Family Table
Classic Chicken a la King from Monzanita's
Mango Chutney Chicken from Better in Bulk
Thai Chicken Lettuce Wraps from Jen's Journey
Unstuffed Paleo Cabbage Rolls from Confessions of an Overworked Mom
Ranch Clam Chowder from Just 2 Sisters
If you are a blogger and you'd like more info, please check out the 15 Minute Suppers website or ask to join the Facebook group to participate on Fridays…we'd love to have you join us.
This post is also part of a Food Bloggers Challenge where we are challenged each week to use a specific ingredient. This week is cabbage.

Related articles
Powered by

Sidelines